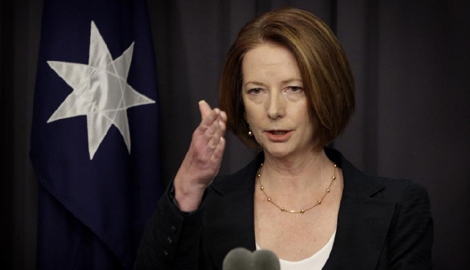 Just over a week ago, on 12 November, 2012, Prime Minister Julia Gillard announced that she will request the establishment of a Royal Commission into child sexual abuse, particularly institutional responses to child sexual abuse. Subsequently, a formal website was set up as a hub for the Royal Commission into Institutional Responses to Child Sexual Abuse.
On 19 November, a consultation paper was published by the Australian Government asking for input on the terms of reference for the commission. This consultation period formally closes in a few days on 26 November.
This is a good thing
Others have written responses to this news: God is My Constant, The Centre for Public Christianity, etc.
My response to the news of this commission is simple: This is a good thing.
Of course we'd like to think that this was just about the Roman Catholic Church. Or various apostate groups. But for anyone who's been around the track a few times, we know that children are endangered in our movement all too often. Sometimes the cause is:
Negligence in training and protective policy.
Definitions of abuse that reject Australian civil law by arguing for ancient Israel's civil law.
A "boy's club" culture where buddies protect buddies.
Fear of what else will be dragged into the open if things are addressed properly.
Denial of that which is deemed too uncomfortable to face honestly.
Sheer criminal intent.
But whatever the causes may be, it does happen and it needs to stop. Of course I will be questioned on this assertion—and legitimately so—so I will justify it in two points.
First, over the last week or so since the Prime Minister's announcement, I have been thinking and praying about how to respond. I knew I would support the work of the commission, but I felt I needed to do more—namely, publicly call for the scope of the commission to be broad enough to include the Independent Baptists. But that is not something I could do lightly. Finally, after wrestling with it for a week, I sat down and started writing a list of situations I personally know of where children have been endangered and/or harmed where Independent Baptist leadership either caused the danger/harm or knew about it and failed to handle it appropriately. I walked away from that exercise with no choice but to take action.
Second, I'm aware of at least one case where the perpetrator has been prosecuted, but the protection of the perpetrator while the crimes were occurring have not, to my knowledge, been prosecuted. As this instance of abuse was prosecuted, the details of the conviction are a matter of public record. If you email me, I will direct you to those records.
Asking for scrutiny
I have responded to the call for submissions, in partnership with Daniel Kriss, by asking for our churches, those of the Independent Baptist movement, to be scrutinised by the Royal Commission. The CPC piece linked to earlier said it well:
It's hard to think of a greater blasphemy, a more appalling obscenity than innocent children entrusted to an institution that is at its heart supposed to be about love, care and protection of the vulnerable and the weak, being instead, a place of the worst kind of betrayal and cruelty. That there is a suggestion that such an outrage has been allowed to go on, and has been covered up in order to protect the good name of the institution ought to cause the believers among us to weep. …
Abuse in the church is a festering sore. It's a cancer that needs to be cut from the body of an institution that does so much that's positive in society. No doubt many good people of faith dread what may lie squirming beneath the rock that is about to be lifted by the Royal Commission. But lift it it must, exposing darkness to the light. There will be difficult days ahead. But many Christians will be hoping that the focus of the church will lie squarely on the side of justice for victims and their families; that church leaders will know that the only way to defend the reputation of the institution is to be prepared to let it fall. If it comes to it, the church must be willing to embrace bankruptcy, lose property and all power, not in employing lawyers to protect it, but in doing whatever it takes to seek recompense for those damaged under its care.
It might lose some buildings in the process but save its soul.
Amen.
It is not enough for the Fundamentalist movement in Australia to publicly ignore the commission and privately bring it up as a prayer point—"Pray that this will not lead to more government control over churches." Rather, the gentlemen of the Fundamentalist movement in Australia must stand up publicly to support the ministry of this commission and must actively cooperate with it. Decency demands nothing less.
The submission
Finally, I include a copy of the submission which will be made to the Royal Commission today.
InFocus
PO Box 700
Earlville, QLDÂ  4870

21 November, 2012

Royal Commission into Child Sexual Abuse
PO Box 6555
Canberra, ACT Â 2600

To the Secretariat:

We offer this submission in response to the consultation paper published by the Australian Government on 19 November, 2012. As editor/contributor of a conservative Christian commentary website, this matter is of special interest to us and many of our readers. It is of special interest because our Lord said of the person who sins against a child that "It would be better for him if a millstone were hung around his neck, and he were thrown into the sea, than that he should offend one of these little ones." (Luke 17:2, NKJV). The Commission, therefore, will be embarking on a work that is close to the heart of Jesus Christ.

First, we believe it is imperative that the terms of reference for the Royal Commission into Child Sexual Abuse be broad enough to include scrutiny of independent and free churches and associations. We specifically call on the Commission to include scrutiny of our own denominational heritage, the Independent Baptist movement. The cultural flaws and institutional sins which will be examined in the Roman Catholic Church are or have been very much present in at least some of the Independent Baptist churches and are no less damaging. We invite this scrutiny of our movement, the Independent Baptists, not out of spite, but because justice and the protection of the weak is more important than reputation and public image. And because we have seen some terrible things in the movement in our work as preachers/counsellors.

Second, we believe the Commission needs to include within its terms of reference a look at what typically happens when child abuse is reported to the appropriate authorities. There is always a price to be paid for making such a report and if such reports are not properly followed through on by law enforcement, the people with the most to lose by reporting will continue to be tempted not to report. Of significance here is the need for enough funding to prosecute more child sexual abuse. The odds of prosecution for abuse are, in our experience in the field, far too low.

Third, we believe the terms of reference need to include a look at mandatory reporting laws. State laws need to be brought into alignment to simplify obligations. Obligations need to be broadened to include, for instance, deacons, office holders, youth group workers, and the spouses of some or all of the above. Penalties for failure to report need to be more strident and funding needs to be available to pursue cases where breaches are suspected.

Fourth, the scope of the terms of reference needs to be broadened to include all forms of child abuse since the issues involved are closely related and the damage is just as real in non-sexual forms of abuse. Additionally, various forms of abuse tend to cluster in cultures that protect abuse and the solutions to one form of abuse often overlap significantly with the solutions to other forms of abuse.

Fifth, the consultation paper addresses the scope of perpetrators to be looked at fairly vaguely saying the scope of the Royal Commission is "to prevent child sexual abuse from occurring in their midst." This raises questions as to whether the commission is intended to investigate only abuse by clergy/leadership? Or is it intended to address abuse within the membership of these organisations where someone within leadership becomes aware of the abuse. It is our view that the latter meaning should be included because this is the nature of organisations; that information is passed through layers of leadership/authority and that within those layers of leadership/authority, there are many with a vested interest in protecting others within the structure. This is even more common in religious organisations where there is often family involved and where relationships are governed by ideals of loyalty and love which are too easily twisted to justify hiding abuse.

Sixth, we call for clear representation of Evangelical Christian issues within the Commission either in the selection of Commissioners and/or in the consultations of the Commission. To this end, we suggest as an appropriate representative of Evangelical Christianity in Australia Terry Harding, PhD whose doctoral work at Queensland University of Technology was a phenomenographic study of the roles of parents who educate their children at home. Terry's close work with thousands of churches and families across Australia over the years and his research focus make him a credible candidate for participation in this work.

Finally, we call for the terms of reference for the Commission to specifically charge the Commissioners with their duty to protect religious liberty in Australia and to deal carefully and consultatively with this issue in forming their recommendations so that the Commission is not seen to work against religious groups, but rather with them where possible, in fighting the evils of institutional child abuse in Australia.

We remain open to further consultation and pray God's blessing on the work of this Royal Commission.

Sincerely,

Jason Harris, editor
Daniel Kriss, contributing commentator
Grace to you.