There is only one love like this …
"Because your love is better than life, my lips will glorify you!" Ps 63:3
InFocus will be covering, live, this one-day event to teach and inspire women.
Hosted by Katoomba Christian Convention, this event will be held at
Saturday, 2 August
for more details, like times, meals, cost and venue map!
More than 2,000 women from Sydney and across NSW, as well as out of state,
are anticipated to attend.
WHO IS ONELOVE FOR?
OneLove is for women of all ages and stages.
WHAT CAN YOU EXPECT AT ONELOVE?
OneLove will be a day of encouragement and inspiration as we reflect on the indescribable love of God, and how this changes everything. You can expect:
Life-changing Bible teaching with practical application for women
Uplifting times of worshipping God in song
Inspiring stories of God's grace and love
Fun surprises!
Scrumptious food!
OneLove is a conference like no other, that by God's grace, will leave you transformed.
Competition!
On Monday 23rd June, Katoomba Christian Conference is launching the OneLove Design Competition where they are asking women to design a square image that contains the OneLove Bible verse: "Because your love is better than life, my lips will glorify you". The best entry will be turned into a magnet and given to every delegate coming to OneLove.
The competition opens Monday 23rd June 10AM – Sun 13th July 11PM. Winners will be announced on Mon 14th July.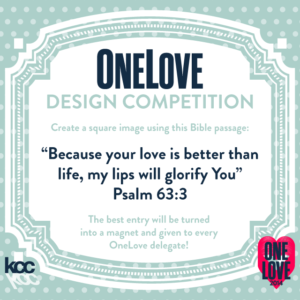 SPEAKERS:
NANCY GUTHRIE
Nancy and her husband, David, have faced the deaths of two of their three children – a daughter, Hope, in 1999 and a son, Gabriel, in 2001, both of whom were born with a rare genetic disorder called Zellweger Syndrome.
Nancy offered many of the lessons she learned from this sorrowful experience in her 2002 book Holding On to Hope: A Pathway of Suffering to the Heart of God. She regularly hears from readers who have been touched by the book from all around the world as the book has been translated into German, Danish, Norwegian, Korean, Chinese, Spanish and Portuguese.
Nancy and David co-host the GriefShare video series used in more than 8,500 churches around the country and host Respite Retreats for couples who have experienced the death of a child. Nancy is the author of numerous books, including the recently completed five-book Seeing Jesus in the Old Testament Bible study series.
Nancy and her husband, David, and son, Matt, live in Nashville, Tennessee.
To read and hear more from Nancy, please see herwebsite.
KATHLEEN NIELSON
Kathleen Nielson is director of women's initiatives for The Gospel Coalition. She has taught in the English departments at Vanderbilt, Bethel College (MN), and Wheaton College. She authors the Living Word Bible studies (P&R), as well as various articles, poems, and a book Bible Study: Following the Ways of the Word. Kathleen speaks extensively at women's conferences, and has directed and taught women's Bible studies at several churches.
Kathleen and her husband, Niel, live in Lookout Mountain, Georgia, and have three grown sons, and two granddaughters.
To read and hear more from Kathleen, please see herwebsite.
BRYAN CHAPELL
Dr. Bryan Chapell is highly regarded in the evangelical community as a preacher, teacher, and author.
Bryan began his ministry pastoring in churches and then joined the Covenant Seminary faculty full-time in 1986 and has since served as a professor, Department Chair, Seminary Dean, and Executive Vice President. He has also served as President of Christ College in Taiwan.
Bryan became the Senior Pastor of Grace Presbyterian Church in Peoria on Easter Sunday, March 31, 2013.
Bryan has written numerous books, including Christ-Centred Preaching, Christ-Centred Worship, The Wonder of it All, The Promises of Grace, Each for the Other, Holiness by Grace and Praying Backwards. In addition to works written for theological purposes, he also is the author of a children's book, I'll Love You Anyway and Always.
Bryan is married to his wife of 34 years, Kathy. Bryan and Kathy have three married children (Colin, Jordan, and Corinne Mather), and a daughter (Kaitlin) who is a high school senior.
To read and hear more from Bryan, please see his church's website.
…but God shows his love for us in that while we were still sinners, Christ died for us.
Romans 5:8
TALKS
GOD'S WORD TRANSFORMS LIVES
Talk 1: What does God's love look like?
Nancy Guthrie
Throughout the Old Testament, God often spoke of himself as a husband to his people, the Israelites. So what kind of husband is he? What does his love for his bride, Israel, reveal to us about how we can expect to experience his love? The prophet Hosea helps us to answer that question. Hosea was called to make his life a living drama or demonstration of God's unfailing love for an unfaithful bride. In his book we see a picture of how our divine husband chooses us, how he woos us to himself, how he loves us in the way we need most to be loved.
Talk 2: Do you love me?
Kathleen Nielson
The question rings in our ears, as we hear Jesus ask it of Peter three times in John 21: "Do you love me?" We do well to listen in on Peter's after-breakfast conversation with the risen Christ, for those words sent Peter out to grow the church we're part of today. What does it mean to be the people who love Jesus…women who love Jesus? We'll ask ourselves what this means for us now, as we take in that seaside scene where our Lord Jesus asked Peter his searching question: "Do you love me?"
Talk 3: Just Mary: An Expression of Christ's Love for the Vulnerable
Bryan Chapell
In this talk, Bryan will demonstrate how Christ's ascension to his Father – and our Father – enables us to deal with the shame of frailties and failures in our lives through the promises of his unrelenting grace.