There is no problem in the "too hard" box that wasn't made worse by being tossed into the "too hard" box. Regardless of how sinister or innocent our motivation may be, the result tends to be the same.
The damage to you
You might be surprised by the suggestion that tossing people into the "too hard" box damages you, but it does. Because you cannot tolerate a full "too hard" box without harming those most exposed—most vulnerable—in your circle of influence. And you cannot dismiss the weak and vulnerable without degrading your own soul.
Here are four ways in which you will tend to be damaged if
you are quick to write off those who ask you for help.
First, you will become responsible for real spiritual damage. You will, by your condemnation or avoidance, be partially responsible for weakening the hands of the fainting and struggling. You'll end up abusing and abandoning the sheep most in need of care and protection. You will, by these acts, be transformed into the image of the hireling you once despised.
Second, you'll become progressively more bigoted. What starts as ignorance and helplessness becomes—with practice—arrogance and hardheartedness. Where you once did what you could even though you didn't know what to do, you'll soon learn to "write off" quickly to avoid "wasting" time. To do so, you'll have to make quick judgements, draw simplistic conclusions, and issue blanket condemnations.
Third, you'll become the monster you tried to protect others from in your early days of ministry. Your judgements and edicts of condemnation will slash and scar people not only making the "too hard" box bigger, but teaching people not to come to anyone like you for help. If your ministry is through a church, you will teach people to go anywhere but the church for help. Eventually, even your own children will fall into something you're not safe to come to with. And you'll look at yourself in the mirror—and this is the most terrifying part—you'll justify yourself.
Finally, you will leave a trail of destruction behind you that will follow you like the stench of a rotting carcass. You will build a legacy with closet after closet full of skeletal remains. If you're lucky, they will be discovered quickly and you will be forced to face your sin early. More likely, you'll get away with it for a while.
The damage to others
If your actions affected only you, that would be one thing. But the reality is far worse—more sad—than that. The damage for the discarded tends to include the following.
First, the very nature of the "too hard" box is that it's isolating. Whether she ends up there by aggressive condemnation or passive avoidance, the message is the same: "You're different. Christianity has hope for normal people with normal problems, but you're not normal."
Second, isolation leads to alienation. Pain leads to anger. Your silence is interpreted as unconcern. You've never uttered a word about your suspicion that he is the problem, but he knows. He senses it. And he resents it. And relationships deteriorate.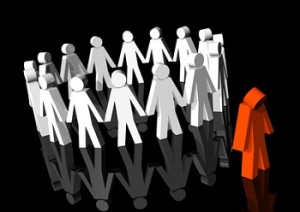 Third, alienation leads to defeat. She's come to the church. She's held out hope of change or progress or something. But nothing has happened. Weeks or months have passed. Maybe years. And she's losing hope. Maybe her only option is to do what feels right. Maybe this is too hard for the gospel to address.
Fourth, what started as a difficult problem becomes a mountainous barrier between the church and the struggler. She is cut off from the one place she could get the word and fellowship of the gospel. What began as a difficult problem designed to be an Ebenezer to God's glory becomes a monument to the insensitivity of the church. The ministers, no longer viewed as loving shepherds, are seen as trigger-happy herdsmen. The protectors become the problem. And the helpless wander.
Conclusion
Isolation, alienation, defeat, and destruction. Could anything be more opposite to what the church is supposed to be? This is why it is so important for every Christian to consider the "too hard" box. How big is yours? What do you do when you realise you're out of your depth? This will be the topic of my next post.
Grace to you.